Traces, Arrows, Rendering
The second important information block for setting appearance can be selected by the button
. In this block you can alter the behavior of traces and arrows.
Traces
Arrows apply only when segments are selected. So for most selections this inspector block will look as follows: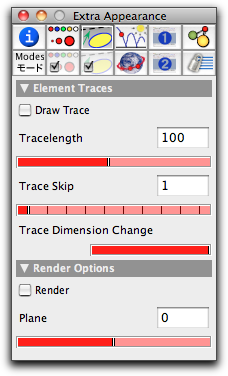 Trace inspector
The majority of these controls are related to traces. Traces are perhaps one of the most useful small extensions of
Cinderella.2
. One can draw a trace of
any
object. Traces dim out with time, resulting in the impression of a dynamic process. The following pictures show two applications of traces. In the first picture is shown the trace of six points obtained by reflecting a point with respect to a collection of mirrors. The second picture shows the trace of a line in a configuration during an animation.
Trace of reflected points
Animated trace of a line
For most applications it will suffice to select the element whose trace should be shown and check the "draw trace" checkbox.
The parameter "Tracelength" controls the maximum number of points in the trace. For performance reasons this number should usually not be larger than 1000.
Generally, a trace is generated for every picture. However, the parameter "Trace Skip" makes it possible to draw only every
n
th trace. This is sometimes useful for slow animations involving traces.
Finally, the parameter "Trace Dimension Change" causes the traces of points to become smaller and smaller.
Arrows
Segments can support arrows. The appearance of the arrows can be altered by the settings of this inspector block. If a segment is selected, the inspector window contains the following controls in addition to those already mentioned: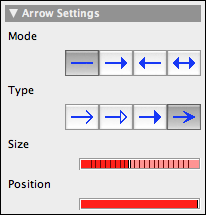 The arrow controls
The arrow editor is analogous to the appearance editor. Its choices apply to the currently selected segments. You have the possibility of adding an arrow at either end of the segment. Four types of arrowheads are provided. Two sliders allow you to control the size and the position of the arrow.

Different kinds of arrows
Rendering
There is also a single checkbox called "Rendering." if this box is checked, then springs in
CindyLab
are drawn as wiggly lines. Furthermore, this checkbox determines whether lines and points that have been drawn by hand in scribble mode are to be rendered as hand-drawn elements.